Brie and Cranberry Tartlets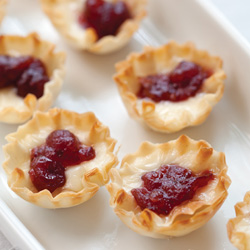 Brie and Cranberry Tartlets
Makes 45 tartlets
3    (1.9-ounce) packages miniature phyllo pastry shells (45 shells)*
1    cup whole-berry cranberry sauce
1    tablespoon orange zest
1    (8-ounce) wheel of Brie, rind removed
Preheat oven to 350°. Line a baking sheet with heavy-duty aluminum foil. Place shells on prepared baking sheet, and bake for 5 minutes. Cool completely on baking sheet. Reduce oven temperature to 300°.
In a small bowl, combine cranberry sauce and orange zest. Cut Brie into about 45 pieces. Place 1 Brie piece in each pastry shell; top with about 1 teaspoon cranberry mixture.
Bake for 4 to 6 minutes, or just until cheese begins to melt. Serve immediately.