Dress Up Your Gingerbread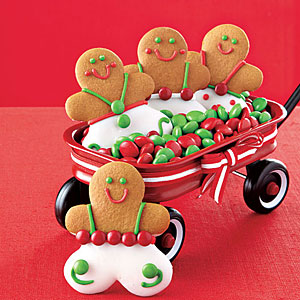 If you and the kids are making Gingerbreads this Christmas.. Maybe dress them up in candy melt pants and mini M&M's. They look super smart and would make great gifts.
Check out the Construct a Cookie range while you're here..
Ingredients
2 14-oz. bags white candy melts (such as those made by Wilton)
Royal icing
Red and green food coloring
Red and green M&M's Minis
Preparation
Melt candy melts as package label directs. Dip bottoms of gingerbread cookies as desired. Shake off excess and place cookies on a parchment-lined baking sheet. Refrigerate to harden.
Divide royal icing into 3 small bowls. Leave 1 batch white, tint 1 red and tint third green. Spoon each batch into pastry bags fitted with small plain tips. (If you have only 1 tip, decorate using 1 color at a time.) Pipe icing to make faces and other decorations, and to attach M&M's Minis.
Attach Minis as desired for buttons and belts.